ABOUT Us
For close to two decades, we Balavigna Weaving Mills, have woven excellent fabrics comprising organic cotton and blended materials. We were incorporated in the year 1995 and have been involved in textile manufacturing adapting fast to the changing fashion trends. At, Balavigna we believe in imparting quality for product perfection.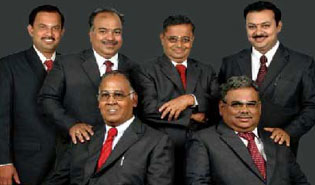 Driven by an urge to improve and excel we ensure that our fabrics are manufactured by the state-of-the-art machinery verified by a team of Quality Control experts and the output your satisfaction.
Balavigna Weaving Mills an ISO 9001:2008 certified company has earned the prestigious Global Organic Textile Standard (GOTS), 5s Japanese Award and various other awards.
The following points will help you identify Balavigna further :
We manufacture and sale 100% superior Quality Cotton & Blended Lycra Cored Stretch fabrics.
We specialize in Lycra cored stretch fabrics in various blends.
We employ the best state-of-the-art textile machinery.
In an endeavor to provide the best , our fabrics undergo a strict supervision and the scrutiny by sophisticated testing equipments and machines.
Use of the best machines like 211 Air jet, Sulzer, Projectile Rapier looms.
Our yarns are accredited by the most prestigious certificates like Lycra, Control Union Certifications, COOLMAX, EKO Sustainable textiles, DOW, XLA, Birla Cellulose MODAL.